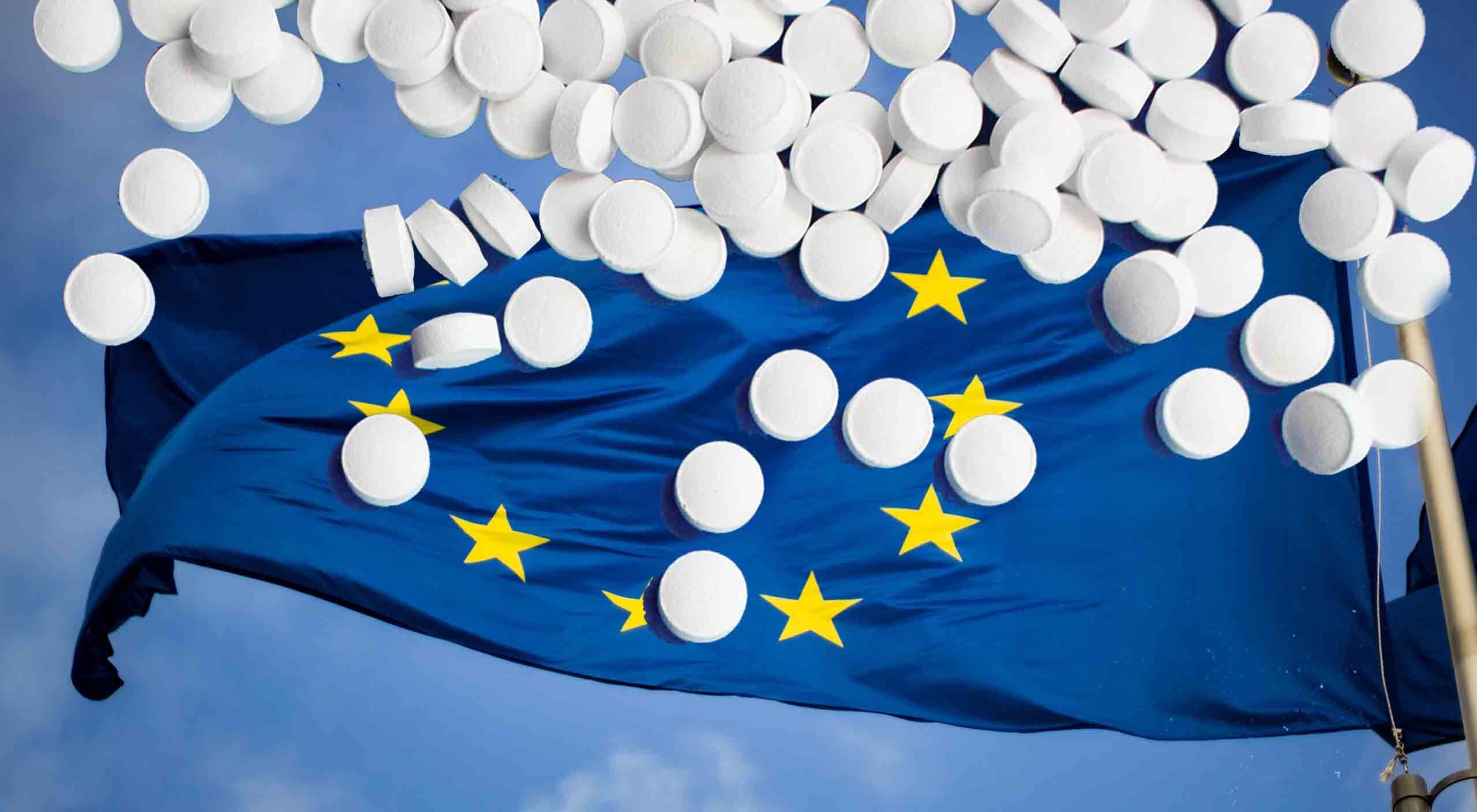 Ammar Badwy | Posted on September 30, 2021
How dependent is the European pharma supply chain on China?

Europe has a large pharmaceutical industry with pharma giants like Sanofi, Roche, and GSK. That's important because with a population of nearly 750 million people to take care of, it would be good to be self-sufficient.
The reality however is that Europe has lost its position as a pharmaceutical super power to Asia. Today, Europe is highly dependent on China and India and that's risky business for the entire European population. But how dependent is Europe really? And is there anything they can do to take back control? We'll cover that, and more, in this article.
APIs (active pharmaceutical ingredients) are the active part of your medicine. You can say, they're the most important part, that has to do the work in your body. European manufacturers play a key role in the API market, representing 30% of global API production. That sounds very positive, right? Well, it actually doesn't say that much…

The production of medicines is like cooking. Take an API, add some other ingredients for coloring, flavor, or volume, and there you go, your medicine is ready. But the API itself, however, is way more complex to produce.
(text continues below the image)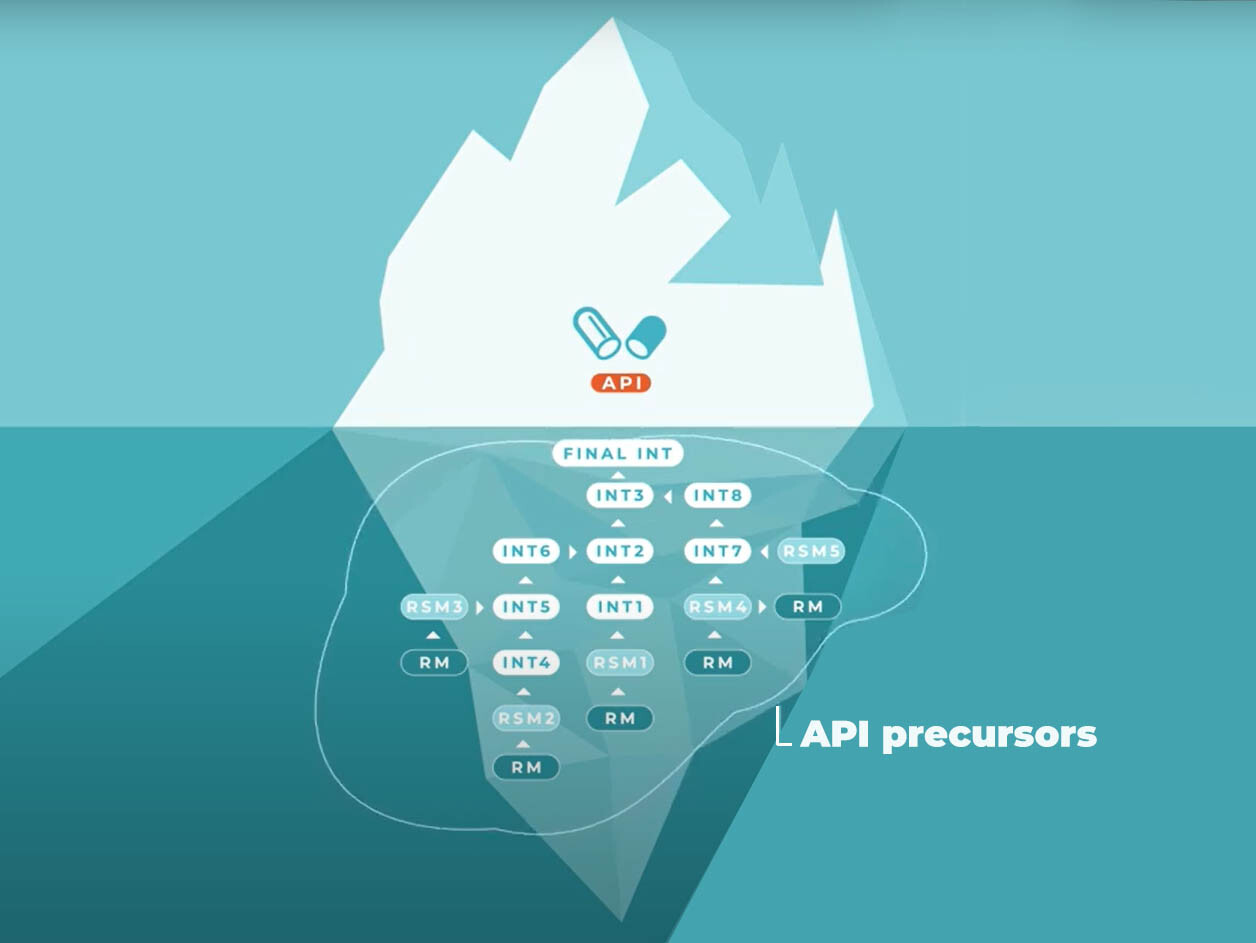 As you can see in the "ice berg" above, you need many ingredients before you have an API.
APIs are produced in chemical processes. It's made out of one or multiple intermediates. These intermediates are made out of raw starting materials. And these raw starting materials are made out of raw materials.

Are you still with me? If not, don't worry about it. All you have to remember is that we call this group of different types of raw materials: API precursors.

How dependent is Europe?
Nearly all API producers worldwide source their API precursors in India and China, and so do API producers from Europe. European countries are 74% dependent on Asia, of which China is the most relevant country as it is responsible for almost 70% of the total Asian dependency. 
Let's take a look at these 5 large European countries (France, Germany, Italy, Spain and the UK). These are their top 10 most used molecules:
(text continues below the image)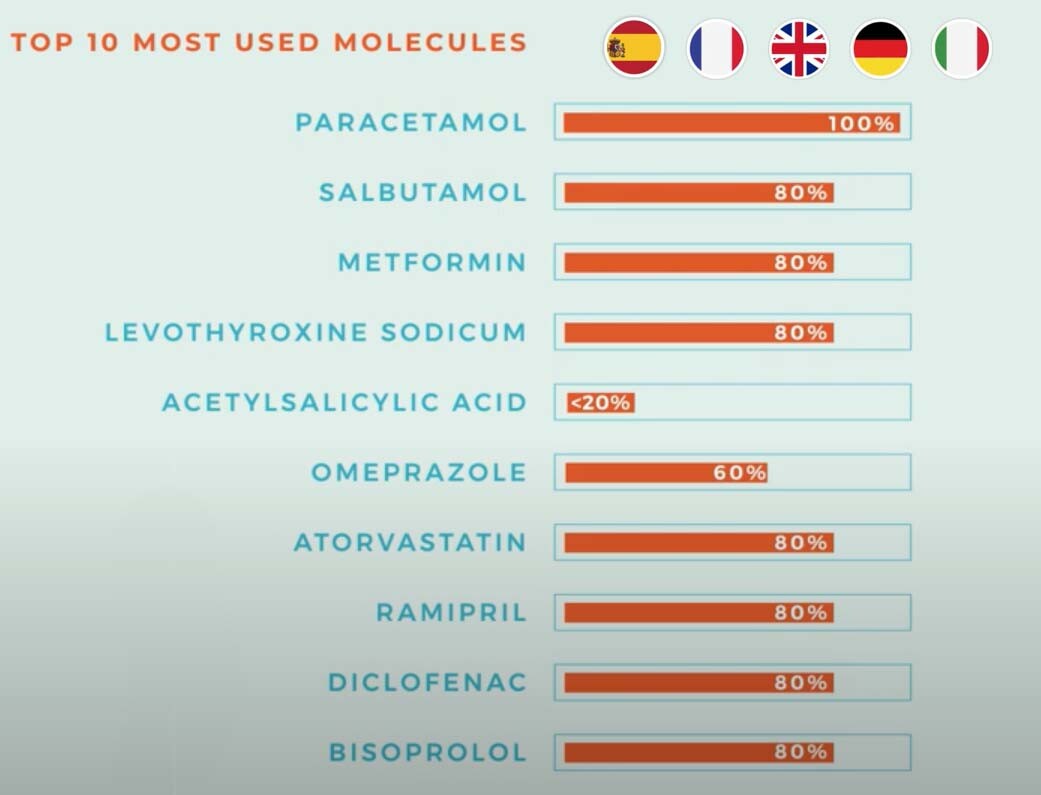 source EFCG
For Acetylsalicylic acid, they are less than 20% dependent on Asia which is a relatively good number. But let's check out some other materials.

You'll get a headache when you realize that if Asia cannot or doesn't want to supply Paracetamol to Europe, there would be no alternative at all! In case of shortages in the supply chain for these products, the impact would be dramatic. But, has it always been like this? Well, no, actually…
From superpower to weakest link
Back in the 70s and 80s, Europe was producing many of its own APIs and precursors. Most of them were produced in Italy, Spain, and Portugal. Europe was only 30 to 40% dependent on other countries, whilst today it's almost 80%.
It was due to constant pressure on the price of generic medicines that pushed medicine makers to use the cheapest APIs they could possibly find. These cheap APIs were bought in Asia or in Europe with Asian precursors.

In the meantime, China took measures to improve its domestic and international supply of pharmaceutical ingredients. Which we covered in another video, you should check it out if you want to learn more about it.
Besides the price, there was a different climate for environmental awareness and safety regulations in Asia than there were in Europe which created an uneven playing field for EU companies.
It became nearly impossible to continue the European production of commercially interesting precursors with this competition.
Why is this a problem?
Each time a medicine is out of stock, patients need to change brand. If the formulation is a bit different, it can bring unpleasant side effects or even worse, the medicine doesn't work for the patient at all. Besides, a change of brand is only a short-term solution because when all brands are using the same precursors, it's just a matter of time before the alternative brand is out of stock as well.
For many years, there wasn't a lot of attention for this problem. Most people didn't even know about this. But, there have been several occasions that have shown how vulnerable the supply chain in Europe really is. For example the infamous recall of Heparin in 2008 and Valsartan in 2018. Or, in case of political tensions between China and Europe; the supply of pharmaceutical ingredients can be used as part of the negotiation. 
But the best example was the beginning of the Covid-19 pandemic. Wuhan, which is an important region for the production of APIs and precursors, was placed in lockdown. At that time, it wasn't clear if the lockdown would take a couple of weeks, months, or even longer.
What's the solution?
IQVIA asked 52 relevant pharmaceutical companies and 71% of them were willing to invest in the European API supply chain if economic barriers could be overcome. 
According to this group, European suppliers score high on reliability and compliance. Price and manufacturing capacity however are barriers to selecting European sources over others.
In their report, you'll find 3 main solutions recommended by this group of suppliers:

1. Take action on the level of the entire European Union! By setting criteria to identify critical or strategic precursors and APIs. Which should be based on therapeutic interest, regular shortages, vulnerability (like the number of alternatives outside Europe and Asia) and use of technology.
2. Support investments into new APIs with highest environmental standards to protect certain technologies from shifting towards Asia.
3. Implement rules supporting European production. For example a call for tenders should include criteria other than just the price, such as.
I agree with these suggestions but I would like to mention another topic. When we started Pharmaoffer in 2016, we wanted to give medicine makers access to all qualified API suppliers. So when they wanted to buy from a European source, they were able to find and contact them. Compared to Asian companies however, many European suppliers ignored us and weren't interested in listening to what we tried to accomplish at all. I was expecting a more proactive and innovative mindset from them, but they were far behind their Asian competition.

Let's take a look at Adidas, Volvo, Burberry, these European companies used to produce their products at Chinese manufacturers. They all shifted it back a couple of years ago to Europe for multiple reasons. A process that is called reshoring. A decision with impact but they have proven that it's possible.