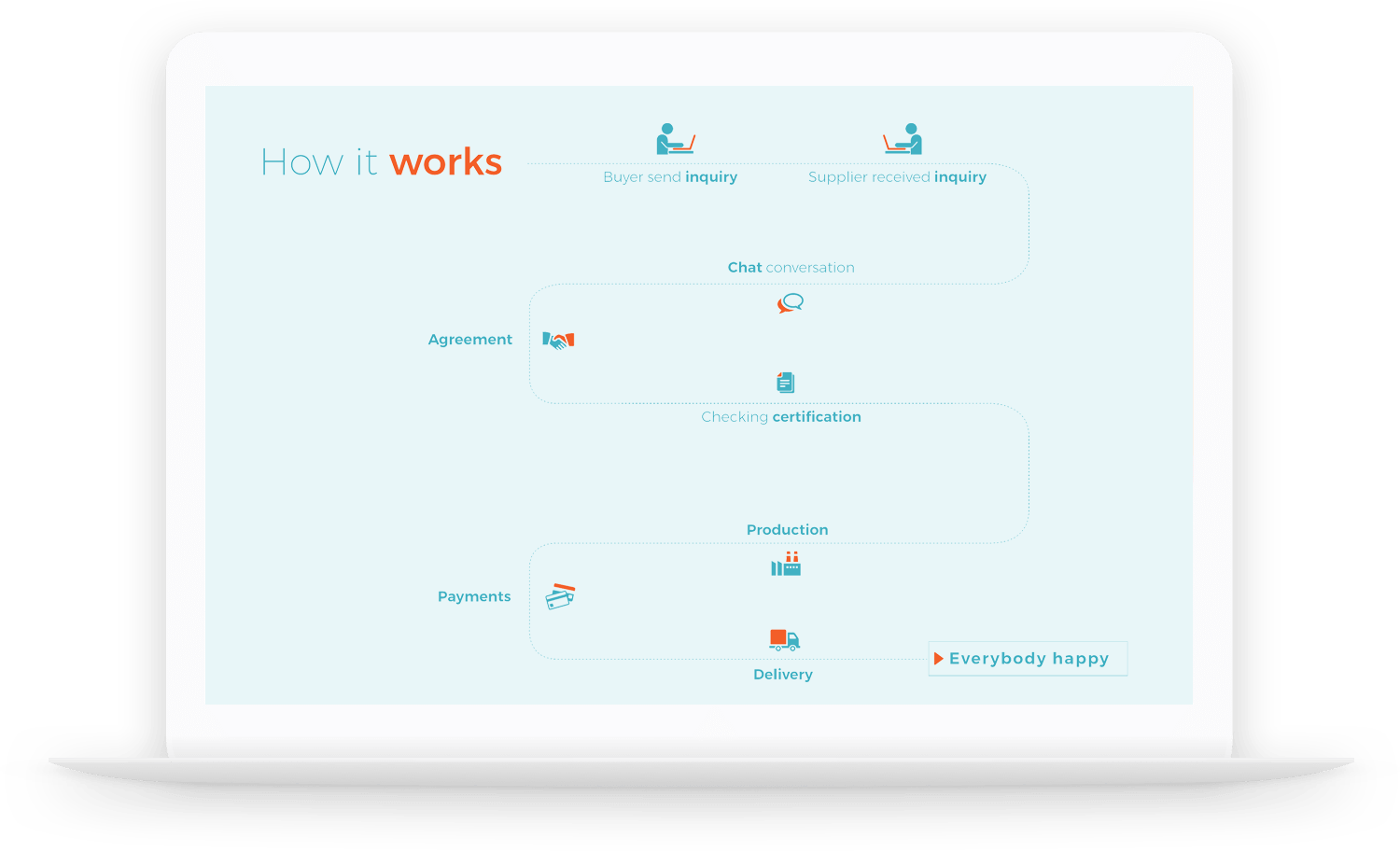 What does the process look like?
We are not a trader but rather a comparison- and communication platform. Pharmaoffer is an online marketplace where you will chat directly with the supplier. They will send you a price offer on the platform.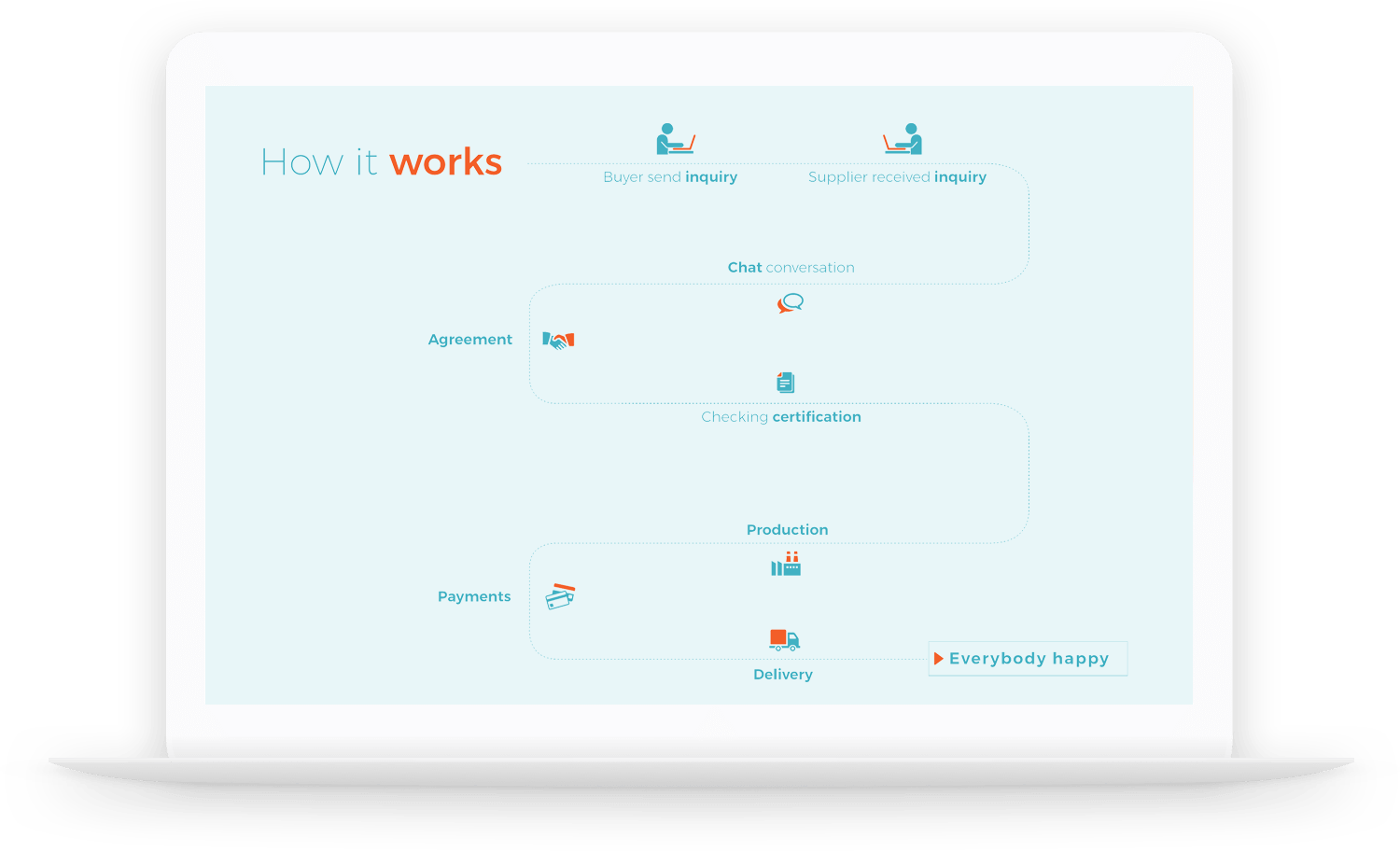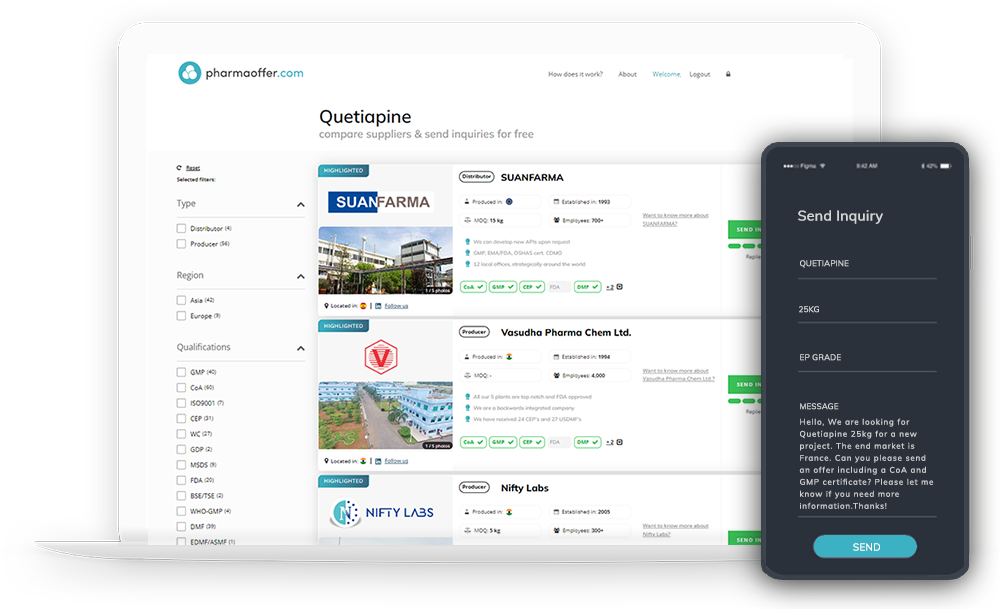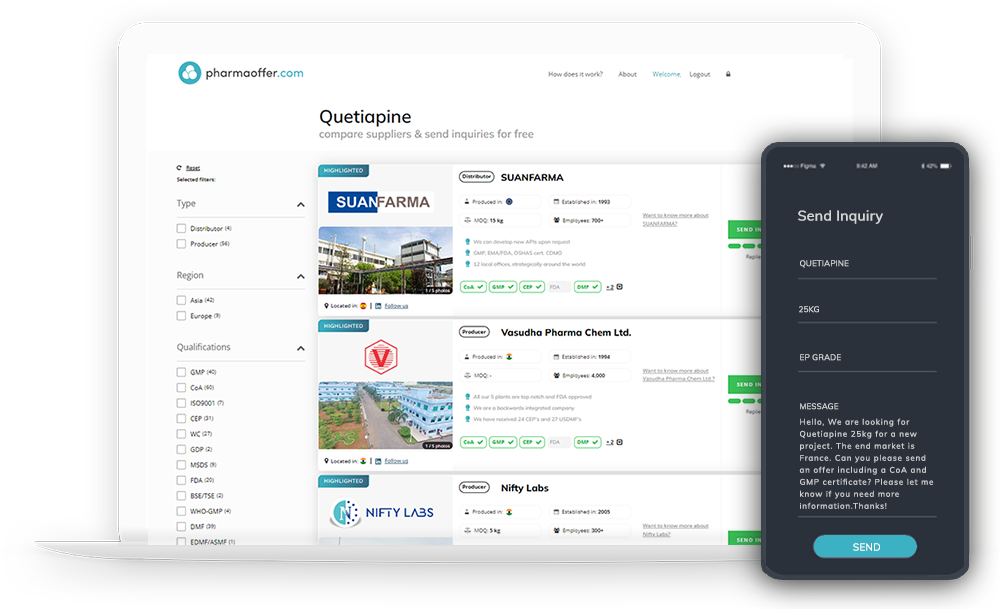 Everything you need to know in one overview
Country of origin
Most suppliers have offices everywhere in the world, what matters is where the materials is produced
Producer or Distributor
See immediately whether the supplier is the manufacturer of the product or a Distributor
Certificates
The most important part, which qualifications does the supplier have.
Unique selling point supplier
Why should you contact this supplier?
Average response time
Is your request urgent? Consider contacting suppliers who respond quick
For all your sourcing challenges
APIs for a new project
Whether you are a compounding pharmacist or a large scale drug manufacturer, finding the right API supplier for a new project was always a challenge. Not anymore when you use Pharmaoffer.
Looking for an alternative supplier
There is nothing more frustrating than your active pharmaceutical ingredients supplier having issues with their supply. It is important to have a back-up plan.
API for research purposes
R&D is an important part of the pharma industry. Universities, CDMO's, CRO's, and large pharmaceutical companies with their R&D department all need access to APIs.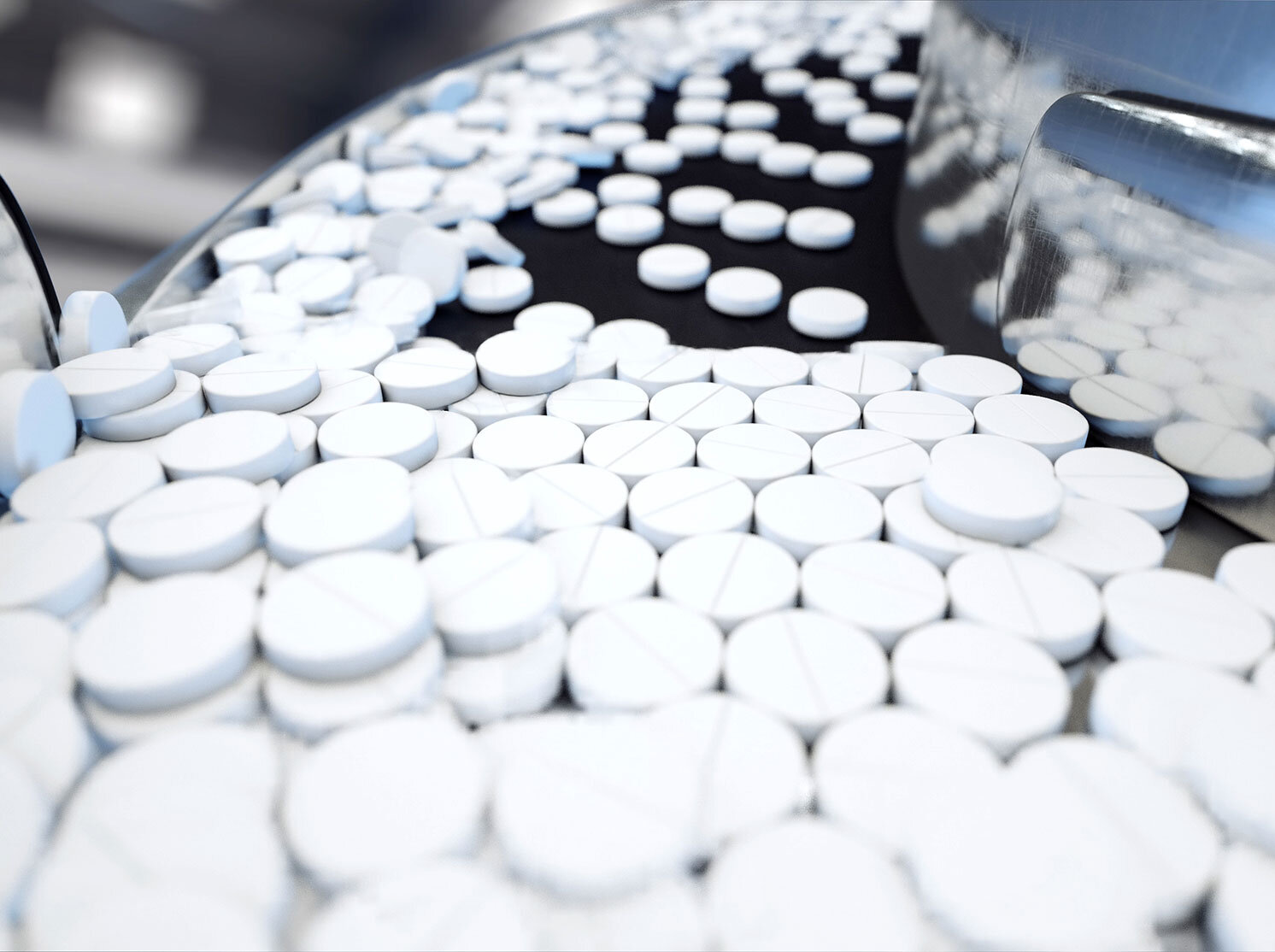 Who can make use of Pharmaoffer?
Companies
Pharmaoffer is a business to business (B2B) platform. This means that the platform can be used by companies only, and not by consumers.
Pharmaceutical
The ingredients on our platform are used in the production of pharmaceuticals. You need to be active in the pharma industry in order to use our platform.
Buyers
We facilitate the entire process from sourcing the product until the order. The actual buyer needs to be the one who places and pay the order, not a third party.
Orders are covered with the Pharmaoffer Guarantee
Do you like to prepay an invoice when you don't know the supplier? We don't like it either. We encourage new business relationships between you and suppliers and that's why we offer the Pharmaoffer Guarantee. Safe for you and for the supplier!
Payments on the platform are processed by our payment service provider Online Payment Platform. You can read more about them and the process on this page.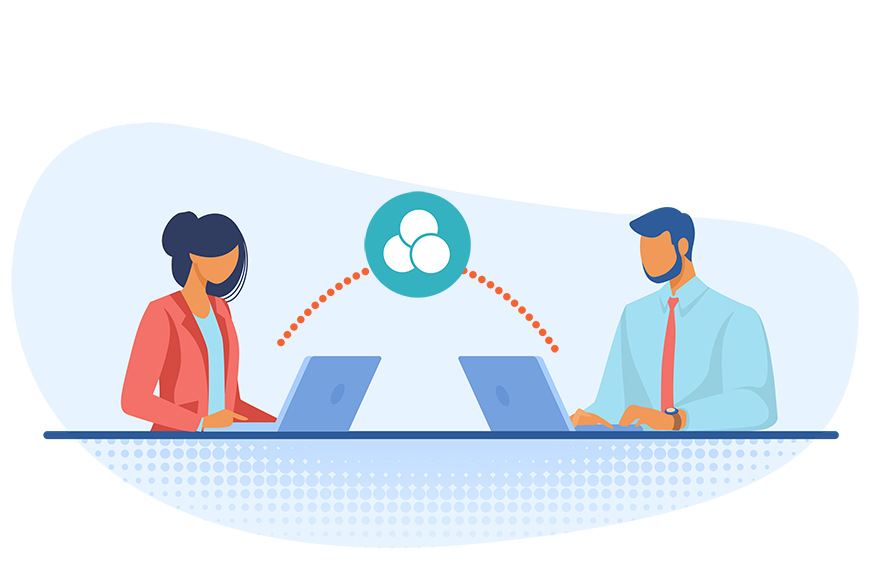 Your benefits of doing business on Pharmaoffer
Pharmaoffer guarantee
We know the struggle of paying invoices to unknown suppliers before you even have received your shipment.
Learn More
Our goal is to make business between new parties, businesses who  have never done business with each other, easier and safer for all parties involved. We want to cover all orders on our platform with the Pharmaoffer Guarantee. This means that you can be 100% sure that you will receive the order (or a full refund of your money).
To offer your this guarantee, we have introduced the Pharmaoffer Secure Payment. With this safe payment condition, we are able to cover all orders with the Pharmaoffer Guarantee.
Read all about it on the Pharmaoffer Guarantee page.
Mediation
In case of any disagreement between you and the supplier, we will, as an independent party, act as a mediator.
Learn More
It's a given fact that once in a while during business you and the supplier don't agree on something. In that case, we will operate as an independent 3rd party. We will do anything to bring it to a good end for both parties. But, in case we think that the blame is entirely at one party only, we have the ability to ban them from our platform if there is no willingness to solve it.
Loyalty program
You'll receive Pharmaoffer points for orders placed through the platform. Your points are visible to suppliers.
Learn More
As a buyer you can collect Pharmaoffer points. You can collect points by placing orders and recurring orders. You're also able to receive points for quick replies and good communication.
Validation
In case of an order, we will start an additional validation of the supplier. Not only quality wise, but also legal.
Learn More
It is important for you to know who you will be doing business with. That's why we validate all suppliers and buyers in a financial and a quality check. After you and the supplier both have confirmed the order, we will validate the both of you. This process only happens during your first order, so after the validation is complete you're good to go! For narcotics, we have an additional validation for each order. 
Know your customer (KYC)
As a platform, we are legally obliged to establish the trustworthiness and legitimacy of Buyers and Suppliers in a process called "customer due diligence" or "know your customer". During this validation process, both the buyer and supplier will submit financial related information and quality-related information. 
Safe
We will validate the submitted information and will inform each party of the outcome of the validation. Communication is key during this process! If the validation is positive we will be able to process your order through our platform. Buyers or Suppliers who don't pass the validation will be removed from our platform. In order to make sure you are dealing with trustworthy companies.
Do you have any questions regarding our validation process? Feel free to contact us.
Easier
Let's be honest, it's more convenient to chat with suppliers than writing emails all the time.
Learn More
We know it can be a ton of work to compare suppliers in what raw materials they offer and in which quality.
That's why we created Pharmaoffer: so you can easily compare the availability of a certain product between suppliers, in what quality it is offered and to be able to download certificates such as CoA, GMP, ISO, et cetera. The actual purchase order is also placed via the Pharmaoffer platform, allowing you to keep track of your purchase orders and to manage the history of all orders you've placed.
It's free
Everything on our platform is free for you as a buyer: registering, sending inquiries and placing orders.
Learn More
Our platform is entirely free for you as a buyer. Because we believe that all medicine makers should have easy access to qualified API suppliers.
Click here for more info about our business model.
So, what brings you here today?
I'm looking for an overview of suppliers who meet my quality standards
I want to know more about promoting my products as a supplier
I would like to know more about this online platform and the team behind it.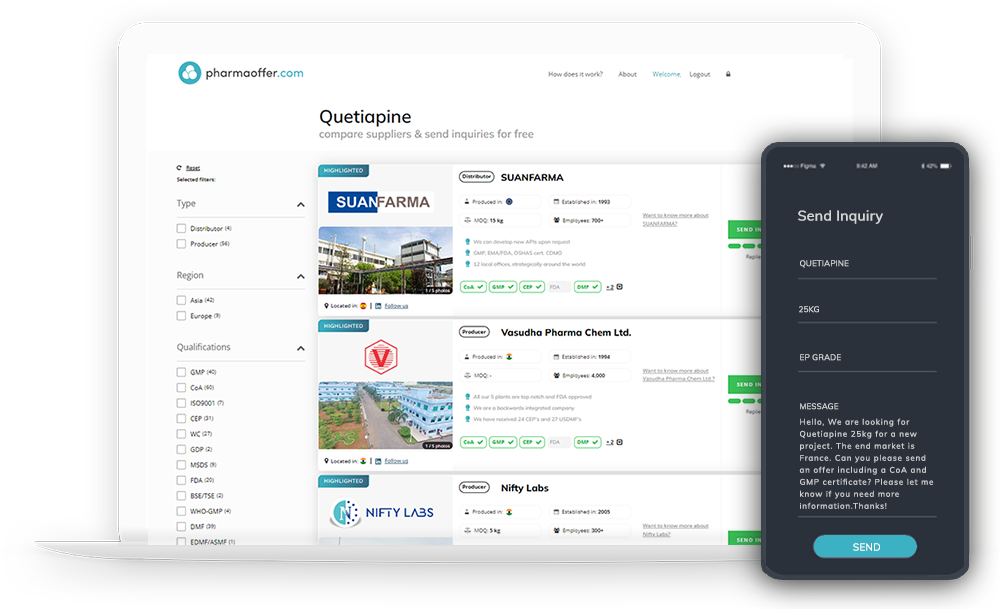 Would you like to know more?